Contact A Plus Alarms & Entertainment Systems
Your Protection, Entertainment & Convenience Company
A Plus Alarms & Entertainment Systems
P.O. Box 420
1070 Whittier Highway
Moultonborough, New Hampshire 03254

Phone: (603) 476-2440
Fax: (603) 250-0448

Email:
info@aplusalarmsnh.com
sales@aplusalarmsnh.com
If you would like to get more information about our products and services, please call or use the form below. We will get back to you within 3 business days.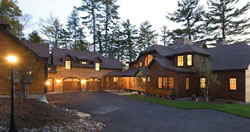 "Jim Nicholas and the team at A Plus Alarms & Entertainment exceed our expectations on every house they outfit for us. They are reliable, honest, and up-to-date on a broad range of audio and video product lines and equipment. As a home builder, it is important I refer my clients to top notch companies for everything from electronics to designers. When I refer my clients to A Plus Alarms for their electronic, alarm and entertainment needs, I feel extremely confident that they are in capable hands. Jim and his team always go the extra mile and take excellent care of our clients! !"

Joe Skiffington
President, Skiffington Homes, Inc.
Click here for more testimonials.